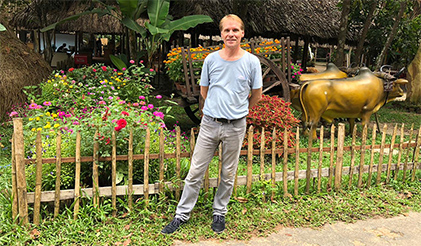 Q&A with SF6 Sales Executive, Simon Langston
You may have already met Simon Langston, the Sales Executive from Cambridge Sensotec. Below are some of his thoughts on the present and future of the SF6 industry.
What's the best thing about working at Cambridge Sensotec?
Cambridge Sensotec is a great place to work, staffed with an intelligent and friendly team of individuals who have a loyal and dedicated attitude. They each play their part in producing and developing reliable products whilst ensuring customer satisfaction and retention as one of their top priorities. I have been given the opportunity to enhance this and apply my own skills to attract new customers. I take great pride in representing such an ethical and respectable company.
During your time at Cambridge Sensotec, how much has the SF6 industry changed?
Within the Power Industry, the SF6 market has changed by the growing emphasis being given to the search for a reliable SF6 alternative gas. However, general improvements in the performance and reliability of test results for SF6 purity have led to increased confidence within the trade. Having listened to customer feedback, the team here at Cambridge Sensotec have made modifications to our products and now Cambridge Sensotec has a product range which competes on the market. This is promoted via our wide network of distributors to become the recognised brand.
What's the biggest challenge for a product like Rapidox SF6 in the current market?
To keep abreast of industry standards and to meet the expectations of the end user by providing consistently reliable gas analysis.
What makes Rapidox SF6 stand out from the competitors?
Our attention to detail and willingness to listen and respond to customer needs, as well as our before and after-sales customer service. Going that extra mile is second nature to us!
What's been the most surprising aspect you have encountered during your time in the role?
Learning how complex it can be to achieve accurate gas analysis. There are multiple factors which can affect results; even a 0.1% variation in certain results can be the difference between a successful or a failed result.
Are there any new products or innovations on the market that have caught your eye?
One of our competitors have a machine that is presented as having been built for the 'Novec' gas. It's caught my attention simply because it shows intent towards where the future of GIS may be heading.
What does the future hold for you and SF6?
Management of an ever-increasing market share and unit sales. The Rapidox SF6 machines will continue to be fine-tuned and will evolve as new technology, innovations and customer needs dictate.
Which tradeshows have been productive, and which tradeshows will you be attending in the future?
All trade shows that I have attended have proven to be productive in their own way. My 2019 Exhibition Plan is:
May – ICCI in Istanbul
July – IEEE in Mexico City
September – PowerGen in Kuala Lumpur
November – EP China in Shanghai & Electricx in Cairo
December – Fise in Medellin
If you would like to meet with Simon at any of the tradeshows, or have any questions, then please email simon@cambridge-sensotec.co.uk.